Tankless Water Heater Maintenance
Relaxing hot water makes showering fun, unlike the feel of icy water literally running down your back. Do not worry; for those uncomfortable shower moments are history now and will not occur to you again since you can now rely on the water heater installation, repair, and replacement services from Hallandale Plumbing Service.
At Hallandale Plumbing Service we guarantee honest and high-quality service, providing our customers with valuable options for
water heater repairs
before considering the necessity for either a replacement or reinstallation. We help you find a remedy that fits your budget beyond your expectations and needs. We want the best for your family, and our services are designed to fulfill your energy usage expectations and water heater needs. We provide a wide range of services that
repair
,
reinstall
and
replace
the following water heaters :
Electric Water Heater
Water Heater Element
Thermostat
Gas Water Heater
Thermocouple
Anode Rod
Dip Tube
Tankless Water Heater
Have you just moved into a home that requires its water heater fixed, replaced or installed or is it your current house that needs its water heater updated? We have expert plumbers with lots of experience in solving all your water heater issues wherever you are residing in Hallandale Beach, Florida. We offer 24-hour emergency water heater repair and installation services at an affordable price.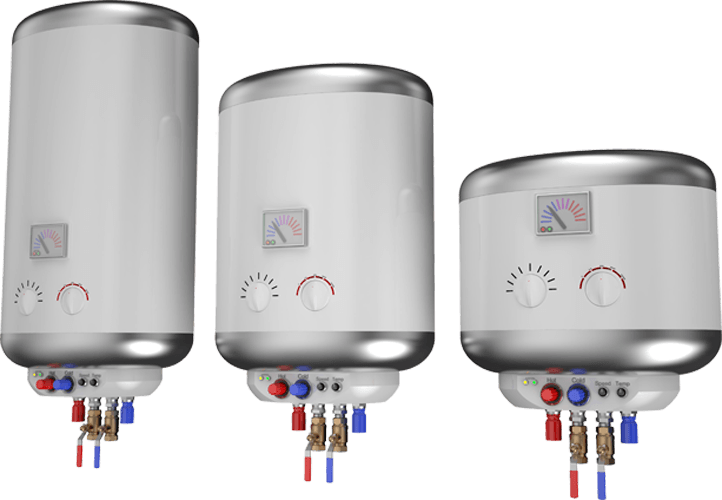 SHOULD YOU DIY A WATER HEATER INSTALLATION?
Water Heater Installation
is not and should never
be a DIY job
. It is strictly for professionals especially considering expensive water systems known for their complexity. Being a client and installing it yourself instead of letting a trained plumber do it as an expert is
risky and quite dangerous
. We at
Hallandale Plumbing Service
help inform our clients about the danger of hazards caused by water heater installation when it goes wrong. Gas leaks and
carbon monoxide leaks
are usually scenes of horror.
Hallandale Plumbing Service experts
repairs replaces and installs all types of water heats
Tankless water heaters
are becoming popular with the push to "
go green
" and are replacing the common water storage tank systems. A Tankless water heater heats water based on demand, unlike others. Our experts are always there to help you sort out the kind of service you need. Note that the lifespan of a water heater is vital since a heater that takes about 20 years to be replaced saves a lot of money in
energy bill
s.
Hallandale Plumbing Service experts will install, repair or replace yours. Here are some of the advantages of tankless water heater systems over traditional tank systems:
They never run short of hot water.
They last 5 to 10 years longer than tank heaters.
They are more efficient than traditional water heaters
Smaller units can be installed in the closet or under cabinets
They need less power to heat the amount of water necessary each time
Saves up to 20 percent from your water heating bill.
Cannot float due to a ruptured tank
Often, water heaters do not get replaced because most of them only get reparable breakdowns. Something our experts at
Hallandale Plumbing service
would fix it as soon as possible and you are soon back to enjoying it.
We have the expertise and the tools needed
for the services, and that is why our company exists. If your water is not getting hot, running faster than usual, or there is some water on the floor that surrounds your water heater, call our experts and get solutions to the problems the same day
We at Hallandale Plumbing Services pride our self for our honesty, reliability, and high-quality workmanship so we guarantee 100% customer satisfaction in all of our services. We're available 24/7, so don't hesitate to contact us now.
Our commitment to compliance with standards and safety:
Hallandale Beach Plumbing Services is exclusively operated by an accredited and licensed contractor - with compliance to its specific local building codes and its specific licensed trade regulations.